Collets, Spindles & Tool Holders
Floating and Pitch Compensating Tap Holders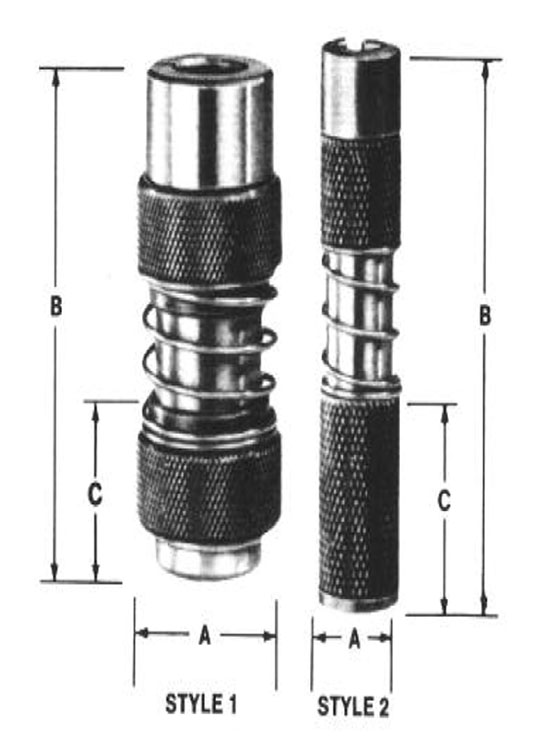 Floating tap holders provide lateral adjustment for operations having open tolerances on hole locations such as stampings or die castings. Pitch compensation tap holders are used to vertically compensate for variations between drill press spindle feed rate and tap lead. Also, they are used on multiple spindle heads, ratio 1:1, requiring taps of different leads.
Style 1 tap holders have vertical adjustment and lateral float. Vertical adjustment of tap is simple, no wrenches or special tools required; just lift knurled top collar and reposition mating serrations of holder and spindle. Float is pivotal and perpendicularity or accuracy of finished holes will be proportional to part hole location tolerances. The tap shank square is used for drive, while a loose running fit at the shank round area provides the float. Tap retention in the chuck is accomplished by an insert engaging a notch in the tap shank diameter.
Style 2 pitch compensation tap holders have vertical float in addition to the same features of style 1. Its design requires the drill press feed rate to be less than tap lead. Vertical float eliminates special drill press feed gears, lead screws or special multiple spindle head ratios.
Ordering Information:
Order by part number; one assembly required for each tap size.
Specify tap size.
Tool holders on existing equipment are identified by the spindle size, outside diameter and length.
SPECIFICATIONS
Series
Style
Assembly Part No.
Tap Capacity
Dimensions
Vertical Adjustment
Serrated Spindle
A
B
C
Diameter
Pitch
4000
1
4000.XXX-00
#0 to 1/4
0.75
1.94
0.81
0.25
0.375
0.040
4100
1
4100.XXX-00
#0 to 5/16
0.91
1.94
0.81
0.25
0.4375
0.040
4600
1
4600.XXX-00
#10 to 13/16
1/16 to 3/8 NPT
1.25
2.78
1.13
0.44
0.625
0.062
4600L
1
4600.LXX-00
9/16 to 11/8
1/16 to 3/4 NPT
1.63
2.88
0.50
0.44
0.625
0.062
6000
2
6000.XXX-00
#0 to 3/16
0.91
2.75
0.66
0.25
0.4375
0.040
6600
2
6600.XXX-00
#0 to 1/4
0.60
2.63
0.66
0.25
0.375
0.040
Part numbers with X to be completed by Createch – specify tap size. C = depth that tool enters holder
* Dimension to bottom of shank square 4600L only

REPLACEMENT PARTS
Series
Style
Body
Tap Insert
Tap Lock
Bottom Collar
Retaining Ring
Collar Spring
Top Collar
Spindle Lock
Compensating Spring
Washer
Screw
Serrated Spindle Dia
D
E
F
G
H
I
J
K
L
M
N
P
4000
1
4001XXX00
NR
4003XXX00
400400000
400500000
400600000
NR
400200000
NR
NR
NR
0.375
4100
1
4101XXX00
NR
4103XXX00
410400000
410520000
410600000
NR
410200000
NR
NR
NR
0.4375
4600
1
4601XXX00
NR
4603XXX00
46040000
460500000
460600000
NR
460200000
NR
NR
NR
0.625
4600L
1
4601LXXX0
NR
4603LXXX0
4604L000
4605L0000
4606L0000
NR
4602L0000
NR
NR
NR
0.625
6000
2
600100000
6002XXX00
60300000
60300000
410520000
410600000
4.1E+08
410200000
600500000
600600000
600400000
0.4375
6600
2
660100000
6602XXX00
660400000
660400000
NR
660900000
6.6E+08
660500000
660700000
NR
660800000
0.375
Part numbers with X to be completed by Createch – supply tap size and original equipment serial numbers. NR = Not required