Fixed Center Heads
Fixed position multiple spindle heads with drilling, reaming and tapping capabilities.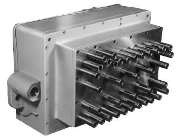 A standard heavy-duty automotive style fixed center head is shown. This head is designed for long, dependable service by utilizing several different options.
Heavy-duty construction to withstand rugged operations and continuous use.
Double oil seals with an air purge to keep the oil in and contaminants out
Oil seal contact areas are ceramic coated on spindles to help dissipate heat
Pre-loaded angular contact ball bearings are used with a sufficient spread between thrust bearing and radical bearing for rigid and accurate support of the spindles
A lube pump pumps oil to the top of the head where it is dispersed by oil tubes or centrifugal force and cascades down to lubricate the bearings and gears
As with all of our designs special customer requirements can be accommodated;
Customer center distance specifications
Mounting to various drill and tap machines at various angles
Placement of the input drive shaft
Input to output ratios of the head to accommodate the customer's specified tooling
Gear construction to be either spur or helical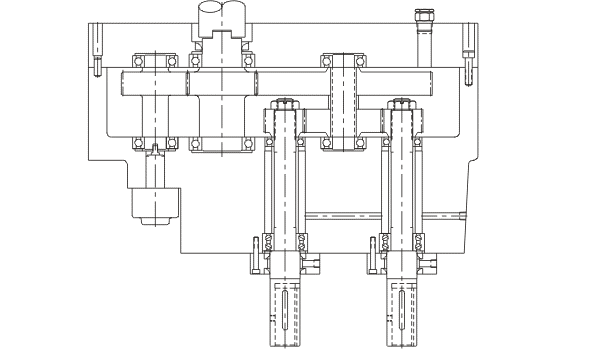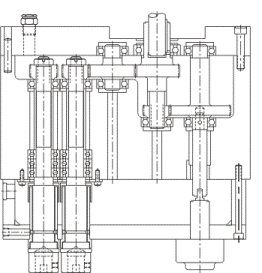 Lead Screw Fixed Center Tap Head
The lead screw tap head shown allows for long service, accuracy and ease of changeover with its design
The design of the lead screw and nut allows for the entire spindle assembly to be removed and replaced for easy changeover
Placement of the seal in the assembly keeps contaminants out, protecting the lead screw and preventing down time and replacement
The spindle design also prevents jamming in either the full forward or full reverse positions
High Speed Fixed Center Drill Head
The high speed head shown is used where high speeds and accuracy are required (300 to 8000 rpm)
High speeds create a major heat source where the seals contact the spindles. This heat source can be eliminated by the use of a stand pipe and slinger to keep the oil in the head.
A cartridge style gear pump is used to pump the oil because of its small size and ease of changeover.