Universal Joint Drive Adjustable Heads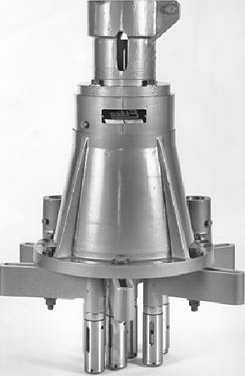 TextUniversal joint adjustable heads are designed and built to provide long and trouble free operation in a production environment.
The following premium-quality features are standard:
Full ball bearing gear case
Wide face heat treated steel gears
Snap on, permanently lubricated and sealed universal joints
Bushed guide rod lugs, cast integral with gear case
Closed housings provide maximum operator protection from rotating spindle drive parts
Provision for spindle end-play adjustment
Note: Overall weight and length are averages, actual will depend on the number of spindles, spindle operations and the type power source utilized.
Spindle assemblies are supplied as needed in bracket arm or cartridge styles, many different capacities, spindle options and center distances are available depending on your job requirements and preferences. In addition, we offer the following accessories cartridge plates, bushing plates, fixture bases and several guide rod options. Contact your Rockford-ETTCO salesperson or factory for complete details.
| | | | | | | | | |
| --- | --- | --- | --- | --- | --- | --- | --- | --- |
| Model | 2005 | 2104 | 2106 | 2110 | 2117 | 2406 | 2410 | 2412 |
| Drilling Area | 4.500 | 4.562 | 6.750 | 9.000 | 13.000 | 7.875 | 10.000 | 10.000 |
| Spindle Drives | 5 | 5 | 7 | 11 | 13 | 7 | 11 | 13 |
| Capacity / Drive in Steel | .250 | .375 | .375 | .375 | .375 | .750 | .750 | .750 |
| Approximate Weight / Set-Up | 18 lbs | 25 lbs | 35 lbs | 48 lbs | 80 lbs | 70 lbs | 80 lbs | 85 lbs |
| Maximum Overall | 9" | 15" | 16.5" | 16.5" | 16.5" | 22" | 22" | 22" |