ATU-4 Production Tapping Machine and Tapping Unit
Precision lead screw tapping to keep your operation on the cutting edge of tapping hole production.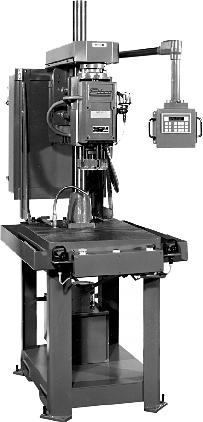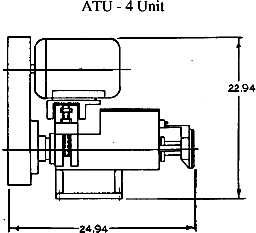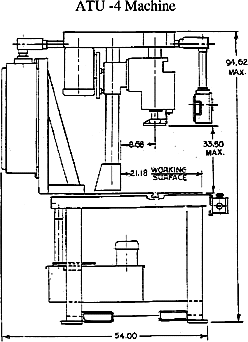 The ATU series tapping units and machines from ETTCO provide for precise efficient hole production at a fraction of the cost of CNC.
Equipped with a swivel-mounted programmable operator interface and controller, the reliable ATU-4 system promotes quick and precise setups. The operator interface displays alarms, and messages, and allows for bidirectional spindle jogging.
The ATU-4 is available as a standard vertically mounted machine or can be mounted explicitly in any position from vertical to horizontal The standard machine includes a welded steel base and table with 1-slot, coolant pump, and plumbing and safety interlocked double palm start buttons.
At a glance …
4″ of lead screw travel
30 cycles per minute possible
Swivel-mounted operator interface terminal, with English or Spanish display
Programmable controller
3.5 HP, 1140 RPM high reversing motor 230/460 VAC, 3-Phase, 60Hz power
Features & Specifications:
Unit & Machine:
4″ of lead screw travel
30 cycles per minute possible
Solid-state programmable
35, 1140 RPM high reversing motor 230/46/360 reversing motor
Pulley drive (370-1500 RPM)
No hole protection
Electrical control panel and controls for double palm push button operation
Lead screw drip oiler, with an adjustable flow rate
Resettable cycle counter, accessible through interface terminal
Optional speed reducer to permit speeds as low as 55 RPM
Machine:
Swivel-mounted operator interface terminal, with English or Spanish display
4″ Diameter column with raising & lowering mechanism
24″W X 36″H Machine base of welded steel construction
10 Gallon capacity coolant system
Excellent power source for ETTCO multiple spindle heads
Price: Contact Factory